S E R V I C E S
At Richard Gould Antiques, Ltd. we always try to offer
exceptional service to clients.

Contact Us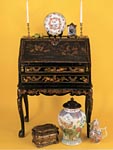 SHIPPING - We offer worldwide shipping of purchases. Under most circumstances smaller items including ceramics and accessories are expertly packed in house using the best of packing materials. All ceramics are shipped bubble wrapped in foam lined cartons with plenty of room for extra cushioning. We ship via United Parcel Service. Larger pieces are shipped through an excellent Los Angeles bases freight forwarder who provides state of the art packaging, crating and air freight at reasonable prices. We can also provide nationwide blanket wrap shipping and local Southern California truck delivery. Please contact us for a shipping estimate on any item on our site.
REFERRALS - We are happy to refer you to a group of excellent tradesmen in the southern California area for your conservation and restoration needs. These experts include cabinetmakers, finishers, gilders, ceramics and glass restorers and framers. We are also happy to refer you to a list of knowledgeable local appraisers in the field of decorative art and to interior designers in the Los Angeles area who typically work with collectors and are knowledgeable in the field of antiques and decorative art.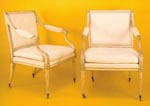 AUCTIONS AND COLLECTIONS - Over the years Richard Gould Antiques has helped to build significant collections of English decorative art all over the United States. We are always happy to aid in the search for objects which fit niches in a growing collection. To that end we often advise clients who are interested in pieces being auctioned in the southern California area. For a small fee we will examine pieces for sale at auction and advise clients on authenticity, condition and an appropriate bid price. We will also bid for clients.